Having Problems with Defects in your Multi-Apartment Building?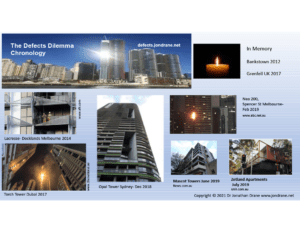 We are interested in hearing from you if you are in the following situation: -The building is a multi-story apartment building that is above three levels. -The building has been constructed in the last 10 to 15 years and is showing signs of multiple defects. -The building defects are substantial, potentially dangerous and could lead to structural or fire related issues. This could included the installation of Aluminium Composite Panel that is currently stable but a potential fire risk.
Please go to our Defects Dilemma research page to share your story:
Share Your Story
You input will help our Research Project: 'The Defects Dilemma' The high rise apartment building is in a state of crisis across the globe as a perceived safe form of accommodation for our families. Our own Australian tragedies and misadventures include (Bankstown 2012, La-Crosse Docklands 2014, Opal Tower Sydney 2018, Neo Melbourne 2019) and then there are the international cases like Grenfell (UK 2017) and the Torch Tower (Dubai 2017). The peace of mind of normal apartment owners is stretched to the limit.

Dr Jonathan Drane