Research Skills Webinar Series 2022
Dr Jonathan Drane provides research skills training to  Honours, Masters and Doctoral students with an emphasis on social research methods.
This can be applied to:
thesis, article, paper and book publishing.
This includes:
Social Research Methods
Literature Review and Mapping
Case Study Methods
Interview Methods
Content Analysis
Research Tools- e.g. NVivo, Scrivener, Endnote.
Academic Writing
Research Planning and Proposals
Topic definition
Time management
Programming
Work Shopping with other students
Which skills area are you interested in?
Register Here
Upcoming Webinar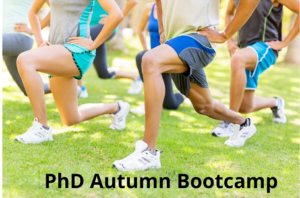 PhD Autumn Bootcamp 2022: Book now for one of our Free Information Sessions
You will need to get prepared and talk to your supervisor or research lead to get a place at the bootcamp.
It runs from March to June and includes a face 2 face one day workshop , monthly webinar workshops and a final presentation day in June.
Lets get this going! Book now on Eventbrite. There are four free sessions to choose from.

https://www.eventbrite.com.au/x/free-information-session-phd-autumn-bootcamp-2022-tickets-258408094567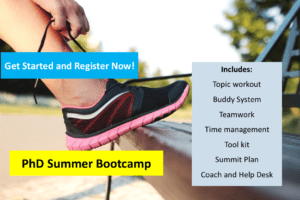 Wednesday 17th January 2021, 7pm to 9pm
PhD students are likened to the marathon runners of the academic world. However not all students know how to train for this experience.
We all know that long distance athletes attend bootcamps for fitness, agility and endurance.
Our Summer bootcamp for PhD students is just like that. Here are the key activities:
Learn More
Webinar Programme To Date
How to Project Manage Your PhD
Wednesday 24 November 2021, 7pm to 8.30pm AEDT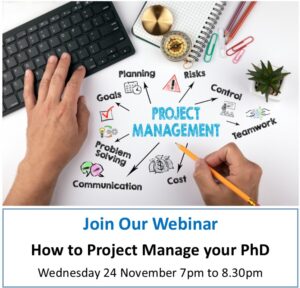 Learn more on our Youtube Series
How to Create a Literature Map 
Wednesday 22 September 2021, 7pm AEST, and run for 1.5 hours.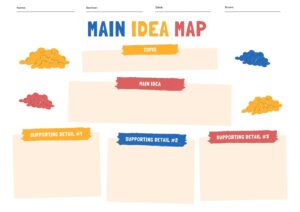 Learn More on our Youtube Video Series