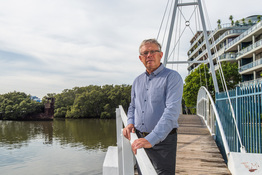 Jonathan is available for advisory engagements that are related to urban renewal, revitalisation and property development.

Recent Project Vignette:

Jonathan acted as Interim Manager of Investment and Development for the Penrith Business Alliance who is the recognised economic stimulus arm of Penrith City Council. Jonathan helped establish the PBA's 5 year draft strategic vision to 2020 , and their advocacy document for the March 2015 State Elections. This included the creation of a research programme for measuring progress of the city's development and a review of the 'Penrith Progression' which is Penrith City Council's vision for the revitalisation of Penrith.
Credentials:
Jonathan was awarded a doctorate at UNSW Faculty of Built Environment in March 2015 for his dissertation 'The Seed in the Cityscape- The property development mechanism and its influence on the growth of cities' , Dec 2014. The research was conducted under an Australian Post Graduate Award.
The doctorate achieved the rare status of AA where no changes were required by the examiners and it was recommended to be published in book form by the examiners and his supervisors. The research filled a gap between traditional urban theory and real estate development theory which allowed for a greater understanding of the city and its development drivers.
Jon is the founder and director of Optimum Search a development management consultancy established in 1993.

Projects:
Jonathan has worked on projects in an advisory, research and client representation capacity.
For projects that Jonathan has worked on please refer to his Linked In Profile
Jonathan's Linked In Profile
His academic credentials include PHD (UNSW) , Master of Arts in Research (MGSM), Master of Business Administration (MGSM), Bachelor of Building (UNSW). He has spoken at both business and academic conferences and published papers related to growth and development of cities since 1990.
Jonathan's career has spanned from 1976 and involved commercial high rise construction, commercial property development as well as client representation for national and international groups.