Dr Jonathan Drane is an award winning Australian non-fiction writer and poet. His personal works concentrate on manhood, and his life experiences as a father, son and husband. Although Jonathan started writing poetry at the age of 12, his works remained hidden until he was 50 years old.

Jonathan's first travel memoir 'The Way of a Thousand Arrows' takes the reader through a mystical journey on the Camino de Santiago- the spanish pilgrim trail which he travelled in 2006 with his young family. The pilgrimage involved more than a family holiday and a history lesson, and introduced the family to their own determination and courage, and the mystical ways of the Camino.

The Way of a Thousand Arrows was launched officially in 2007 and won the Messenger Marketing Prize at the 9th Australian Publishers and Author's Book Show (NSW Writer's Centre Award) see www.jondrane.net for his other works.

Guide to the Camino de Santiago

He and his wife Penny have also created a Guide to the Camino de Santiago which focuses on families and their needs on the path.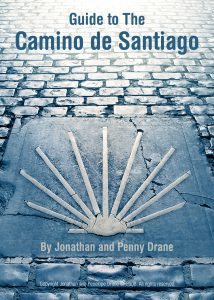 The First Pilot

Award winning Australian Writer Jonathan Drane depicts the history of a Pilot Station on the north coast of New South Wales, where he has spent many years holidaying but was unable to remain oblivious to the powerful and mystical presence and deep history of the station which holds a mystery. 

The station is a remnant of the light house and pilot era of Australian maritime navigation and stands on a headland facing the Pacific Ocean. It holds a position on the coastline which has seen tragic death and accidental ship wrecks over the centuries. It also holds a mystery in the unexplained death of Frances Williams the wife of the first pilot-boatman who was buried in a shallow sand grave on the grounds of the Pilot Station at the age of 27 leaving three children behind to Isaac her husband. In the unfolding of her tragic story, the dramatic history of the valley and the remnants of the indigenous people's place in the valley also becomes evident along with the footprint of their life and time which is imprinted in the land upon which the station sits.

In Jonathan's first historical novel based on detailed research, called 'The First Pilot' and prompted by observations and events while holidaying at the station with his own children, he weaves a haunting picture of the station, the first pilots, the timber and lime burner industries that invaded the valley and the first people; the indigenous inhabitants of the headland and the presence they still hold for those who visit.

 

Interview with Michael Spooner ABC Radio, Port Macquarie, February 11, 2015.


https://www.jondrane.net/wp-content/uploads/2016/07/ABC-Spooner-Intervieew-Jon-Drane.mp3

Jonathan's books can be purchased by request by email on the contact us page.