How to self-publish academic theory for maximum impact: The academic research community usually writes in articles and papers that are published in what can be  'echo chamber' journals and conference articles that have little reach to audiences outside Academia.
Self-publishing your academic works is a way of gaining greater audience reach and bringing your academic concepts into the mainstream community. In the academic world this is called 'academic engagement'.
A typical academic in a post graduate situation will have three main performance points: Research, Teaching and Engagement.
Academics are generally good at research, not always good at teaching, and often really poor at engagement.
Dr Jon's free writer's laboratory 'JDSLAB' allows you to understand the self-publishing opportunities and how to test your academic works through creating micro works and articles. It mixes scientific method with business and entrepreneurial  concepts to help reach your audience in both academia and the rest of the world.
Self-publishing academic theory- skillsets and pathways for Academics
The 'lack of engagement skills' in Academics is often because the academic rigour that is applied to their theoretical works 'over-focuses' on originality and contribution and tests this on an evidence based model.
Post doctoral students will spend countless hours trying to hone their topic for these criteria literally within a small human bubble (your supervisor and panel) and an academic bubble e.g. google scholar. The final bubble is the journal or conference paper. We define a 'bubble' as 'a closed group of people or community members with a common objective but with limited transference and integration with the outside world'.
Why the academic method does not support self-publishing skills and pathways
Of course the academic rigour is because of the need for evidencing of original concepts so that the overall academic knowledge and wisdom base builds on itself methodically.
However a sometimes insidious practice amongst some supervisors is to suggest relentlessly that a post grad student should not expect their works to gain any prominence or higher recognition. This subordination is often to protect higher level academics and create a pecking order.
The typical timeline for completion of a Masters Thesis might be a year and then getting it published in a mainstream journal or publication can take months or even a year with the possibility of not being approved.
This can be demoralising to the academic and meanwhile those great ideas or concepts could have been shared with the world as part of your engagement obligation.
Legal and ethical constraints on self-publishing academic works
Please note also that the constraint on this idea is related to the universities' guidelines for engagement and might even involve their ethics approval process.
This is why it is good to outline your thesis and its engagement points early in your research proposal. This article assumes you have gone through that process and does not try to cut across those protocols.
Self-publishing supports the testing of academic theories
However our ethos is to share your wonderful concepts with the world outside academia and get some great feedback, enjoy engagement and interaction with the world and even help test your theory!
The scientific method works on a mix of induction and deduction related to theory creation and validation.
In social research for example induction is often used to build a potential concept or theory from observations.
In statistical or positivist research deduction is often used  to test theory first by obtaining responses to the theory from the research target cohort.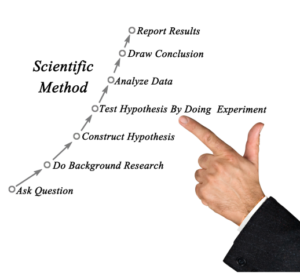 The Scientific Method
Both inductive and deductive methods are usually tested through surveys and interviews as well as observation and other research methods.
In the science of self-publishing an article, blog or post can be used to obtain feedback and response from a target audience. This can be either inductive or deductive and you get to share your theory and concepts with the outer world!
Dr Jon shares his self-publishing experience.
Dr Jon started his academic journey as an industry professional in the built environment by practicing and researching the phenomenon of high-rise buildings.
His first theoretical works was in a Doctor of Business Administration (DBA) at MGSM (Now Macquarie Business School) in and assignment-paper titled Proliferation of Tall Buildings in 2009. The DBA morphed into a Doctorate at UNSW Built Environment called The Seed in the Cityscape In 2015.
Along the journey he created jondrane.net which is now called The City Whisperer which is a recognised independent publisher on the growth and malaise of cities.
He published short articles and blogs on the web page and gained both industry and academic interest in his topic right through his masters and doctoral period then beyond to today.
The City Whisperer now stands as a self-publishing portal for his ongoing work and attracts consultancy and advisory work related to growth of cities. He also invites students and career professionals to write articles on their experience of the city.
Dr Jon's self-publishing pathway involved the use of articles and blogs to create impact and obtain feedback on concepts. He has now created a writer's laboratory to help writers understand self-publishing pathways in academia. It is called Dr Jon's Writer's Laboratory or JDSLAB.
He also runs research skills webinars on literature mapping and project management of field research.
As Dr Jon is a veteran researcher as well as a writer and he has developed skills that allow him to analyse the best ways of getting his books and articles out there and being read. He has been founder of a city research centre called Optimum Search. JDSLAB is founded by Dr Jon and powered by Optimum Search.
Optimum Search is his advisory and research group which turns 30 years old in 2023.

Learn More about JDSLAB
Dr Jon's Self Publishing Laboratory
Listen to  our JDSLAB Podcast
Our Researchgate Spotlight Article
Write an Article on Cities and publish it on The City Whisperer
We welcome early to mid-career students and professionals to write a 750 word blog article on the theme of city growth, it's impact on mental health and your vision for the future.
Learn more
Publish an Article on city growth and mental health
Entrepreneurship in self-publishing
Entrepreneurship in self-publishing is a topic that is not covered or understood well in writer communities.  Self-publishing is an act of business and entrepreneurship, though many writers struggle to realise this when they venture into self-publishing.
Learn More:
Entrepreneurship in Self-publishing
Learn from the Celebrities
And also learn  about Missy Higgins story on ABC's Zan Rowe show called Take Five about dealing with her fame and 'waiting for her real life to begin'..
That sounds like a familiar writer's dilemma but in her case she gained recognition and fame very early in life! A must read/watch!