Suffering in silence in the Hunter- a study of stoicism in men and its relationship with depression and suicide in the Hunter Region.
The Hunter Region lies two hours drive north of Sydney, and is rich with port heritage, manufacturing industry, world recognised wines, expansive beaches, sailing cred and a creative arts culture.
The original people of the Hunter are the Wonnarua with other groups like Awakabal, Worimi and Darkinjung closer to Newcastle. We pay our respects to their rich heritage, ancestors and present people.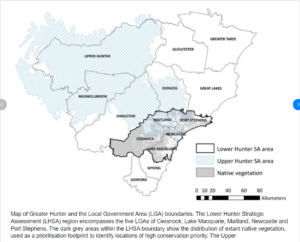 Map of the Greater Hunter
Source: Research Gate https://www.researchgate.net/figure/Map-of-Greater-Hunter-and-the-Local-Government-Area-LGA-boundaries-The-Lower-Hunter_fig1_277957607
The region extends from Gosford in the south through Newcastle then upward to Taree and out into the Hunter Valley. The combined population of the region was 682,465 in 2021 and is expected to reach over 1,000,000 people by 2031. (Census-Wikipaedia)
The Hunter history is one of steel, coal, manufacturing, defence and agriculture. 
Due partly to this history, the region includes a potent mix of several work types that are pervasive such as the farmer, the service person/soldier, the tradie and the coal town worker.
This article focuses on men in each of these work situations through both observed and researched behaviours related to stoicism. It looks at mental health in light of male stoicism and its effects on their families.
Within  male stereotypes in these cultures (and not restricted to Newcastle)  are three recognisable and often normalised behaviours; being stoic, laconic and mono-syllabic.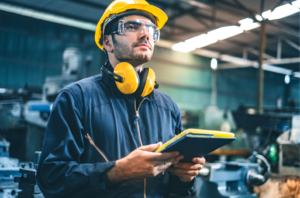 Though we focus on blue and grey collar workers in this article, the generational history has also nurtured stoic culture into white collar society and across gender too.
Stoic means someone who usually does not express their feelings when they are in pain and are taught to 'suffer in silence'.
Laconic is like the character depicted in movies who uses only a few words to say something and appears remote and dis-connected.
Mono-syllabic is a loose term but it is like laconic in that conversations involve quick responses that are often dismissive and present in forms like banter, quips or jokes.
My own initial lived experience of this began when as a teenager at my public school in Sydney I had a gym teacher. He gave us a lecture before doing any of the activities that it was most important to 'suffer in silence'.
In my adult life as a builder, project manager and property developer on commercial building projects, I have experienced these cultures and behaviours over many decades. On construction sites I have personally experienced physical bullying, intimidation and stone faced conformity.
I have also written extensively about construction and property development related cultures through my doctorate at UNSW Built Environment called The Seed in the Cityscape which you can read about on The City Whisperer on https://www.jondrane.net/ .
The history of Australian stoicism is long standing, from the trench culture of the ANZAC Legend to the stiff upper lip colonial sentiment. Countries, industries, careers and families have been built on this culture.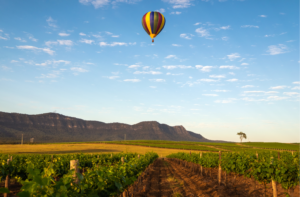 Wars have been waged based on its foundation ethos. There are few winners in its aftermath however, as we can see in Israel/Gaza and Ukraine which is still active as I write this article.
But is stoicism still relevant today and is it actually a harmful culture in the modern, more sensitive era. The complex era of social media and the rise of political correctness and political empathy toward inclusion and diversity.
Taking stoicism as a central behaviour, both male cultural commentators and research show there is a relationship between stoicism and male anxiety, depression and even suicide.
In a UNSW News room piece it is noted; 'Suicide rates reveal the silent suffering of Australia's ageing men'.
Source: https://newsroom.unsw.edu.au/news/health/suicide-rates-reveal-silent-suffering-australia%E2%80%99s-ageing-men
The Royal Commission into Defence and Veteran Suicide noted 'there's often a culture of tribalism and exclusion in military settings. This is created by factors including hyper-masculinity, intense stigma against acknowledging injuries (physical or psychological), and the total authority commanders have over military life'.
Source: https://newsroom.unsw.edu.au/news/art-architecture-design/royal-commission-delivers-damning-interim-report-defence-and-veteran
The studies show that these stereotypes tend to 'suffer in silence'.
In many cases the loved ones of these stereotype males find out about the way their beloved father, brother or son have suffered through sudden episodes; in either outbursts, domestic violence, disappearance, estrangement or tragically when it is too late.
The suicide rates of men are consistently high. Across NSW they are 3 to 4 times that of women. Men over 85 have the highest incidence as well as men from 25 to 55, an age that coincides with mid-life family and career challenges.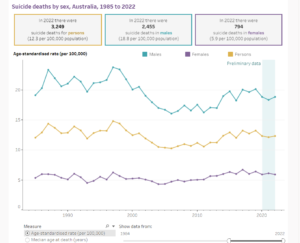 Source: https://www.aihw.gov.au/suicide-self-harm-monitoring/data/deaths-by-suicide-in-australia/suicide-deaths-over-time
Help-seeking behaviour in men is typically poor. Of approximately 9 suicides per day in Australia, 7 are men.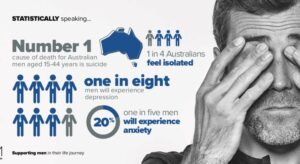 Source: Mentoring Men mentoringmen.org.au
Returning to the Hunter and the four male stereotypes, the statistics show that there is not only a higher suicide rate of men to women but also higher domestic violence levels in regional settings like the broader Hunter New England area.
Source: Hunter, New England & Central Coast Primary Health Network, Mental Health Regional Plan. https://hneccphn.imgix.net/assets/src/uploads/resources/Mental-Health/FINAL-VERSION-MHSP-Regional-Plan-FEB-2021-01.pdf
So is our Hunter male community suffering in silence and is this contributing to higher rates? 
We would like to know
and are calling for men and women in Newcastle and the Hunter to tell their stories and guide us in our objective of reaching men before they are too far gone in their own world of grief and pain.
Similarly women who are struggling with depression and suicidal thoughts or seek an understanding of unusual or distressing behaviours in their menfolk.
An important free service to support men in their life journey is Mentoring Men. Their motto is that "No Man Walks Alone" .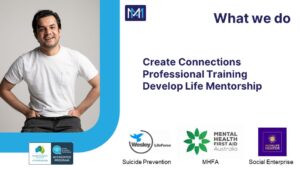 Source: Mentoring Men see mentoringmen.org.au
They can provide a professionally trained male mentor to help you. A mentor is someone who will hear your story or even help you to find a pathway out of your painful situation.
Their mentoring is free and Mentoring Men are expanding their footprint to support communities in Newcastle and the Hunter.
 Help with our Local Hunter Research into Men's Mental Health
We have  set up a simple anonymous form for you to share your story. See below. It will form part of our ongoing research on this area and to further support Mentoring Men and male mental health initiatives generally.
The research is undertaken by the author Dr Jon Drane through his research centre Optimum City Research on jondrane.net see https://www.jondrane.net/optimum-city-research-history
 Share your story by filling out this anonymous form:
Help by donating
We have recently set up a fundraising page for Mentoring Men, to support the expansion of their services and programs into Newcastle and the Hunter.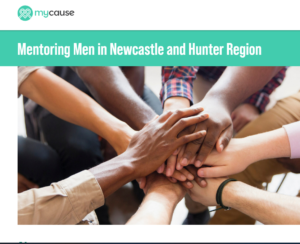 Go to : https://www.mycause.com.au/p/326272/mentoring-men-in-newcastle-and-hunter-region
 If you would like to donate, see the banner below and either tell us your story or donate to this important cause or both!

Every dollar counts, and any amount you can kindly give will go a long way to supporting men in their life journey in our region and to help research and solve suicidality.
We look forward to hearing from you.

Dr Jon Drane
Director Optimum City Research, Editor The City Whisperer
About the Author:
Dr Jon Drane is a veteran award winning practitioner, researcher and writer in both industry and the academic world. He was the first to write a practitioner doctorate on the culture of property developers in his landmark research called The Seed in the Cityscape.
Jon lives in Mayfield East in Newcastle and loves its culture and heritage, not to mention the beaches and the Hunter. He is a mentor and ambassador for Mentoring Men in the Hunter Region and set up a fund raising page for Mentoring Men in November 2023.
Learn More